Description
Designed to get a reasonably priced Hearing Aid with best ergonomic and acoustical qualities, the RONDO uses very few components installed in a simple and rugged construction. This means not only a low production price, but also the feasibility of the huge quantities potentially required to satisfy the world needs. The sophistication of the main competitors manufacturing digital Hearing Aids leads to no-competitive prices and restricted producible quantities, so that only a few % of hearing impaired people are equipped! (statistics available).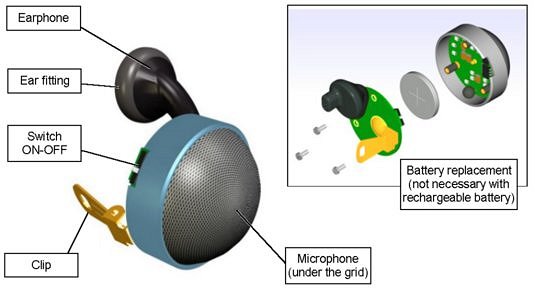 Ergonomics and physical appearance (look)
The RONDO is rather large: this is a necessity, either for ease of handling (children, old and/or clumsy people, etc.) and for best sound quality.
This size allows also an adequate built-in battery or an original rechargeable accumulator, for lowest costs and ecological maintenance.
Size and look will be studied, according to the fashion.
...
Sound Quality
Nobody can get away from the physical laws of the acoustics, and tiny speakers like those commonly used inside the current digital H.-A. are not able at all to produce the Hi-Fi sound of the RONDO-hearer: thanks to its low distortion and broad frequency range, which covers 9 musical octaves.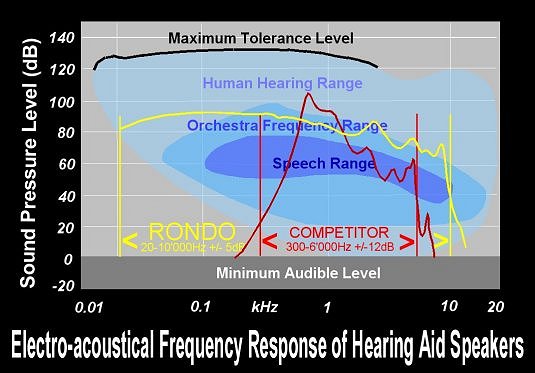 | | |
| --- | --- |
| | Similarly for the RONDO microphone, with its exceptional directional characteristic, resolving quasi perfectly the hearing problems in a noisy environment. |
The unique compressor-limiter (drift away from Stellavox professional products and enjoying a very long experience in audio recording ) is a special electronic circuit installed inside the RONDO circuit board. It controls the sound level for best audible comfort, and particularly even the very short sound peaks, which are utmost disagreeable.
Specifications:
Size (without hearer) : dia 32 mm x 20 mm (dia 1,25 inch x 0.8 inch)
Weight (with battery) : 15 g (0.5 oz)
El. Frequency Range : 20 Hz - 20 kHz +/- 2 dB (without corrections)
Acoustical F-Range : 40 Hz - 12 kHz +/- 5 dB (without corrections)
Electrical Supply : 1 Lithium Button Battery size dia 20 x 3,2 mm
Type : CR2032 or equivalent / 230 mAh, 3 V
or : ML2032, compatible, rechargeable, 65 mAh
Life of the Battery : many years when not in use: no self-discharge
Power Drain : approx 1 mA per " RONDO "
Supply Voltage Range : 4 to 2 V=, for stable (+/- 0,5 dB) general gain
Trimmer Gain Control : adjustable from -6 to + 6dB (nominal = 0 dB)
Comparative:
Item
Competitor
RONDO
ERGONOMICS
Battery:
special, expensive
standard, inexpensive
Rechargeable Battery:
not available!
standard
Annual Cost:
approx. US$ 150
approx. US$ 60
(less with rechargeable battery)
Solar Power:
not available
built in (case holds 2 RONDOs)
How to put on:
laborious
fast and easy
Maintenance:
fastidious cleaning
none
Handling:
tedious
no control to adjust
Comfort:
occlusion noise when eating
excellent
Sturdiness:
fragile
robust
Moulding Necessity:
to individual ears
no need
ELECTRONIC PERFORMANCES
Correction of Spectrum:
not accurate
very accurate
Limiter-compressor:
distortions
audiologically correct
Gain:
depends on battery level
stable
Slope of Amplification:
fixed
adaptable
Battery Charger:
not available
optional
Accidental Switch-on:
possible
impossible
Technical Maintenance:
difficult
easy
ACOUSTIC PERFORMANCES
Music Rendering:
restricted sound
natural sound
Microphone:
limited performance
studio quality
Speaker:
low performance
studio quality
Larsen Effect:
occasional
on rare occasions
Directivity:
pseudo-card´oide
true card´oide
Understanding in Presence of Ambient Noise:
poor
good
Noise from Wind:
high
low
Frequency Response:
restricted with peaks
extended, flat
Input-Output Fidelity:
poor
good
Direct Hearing:
reduced
unobstructed
Audiogram Transfer:
indirect
direct